Dr. Lynette Cacciotti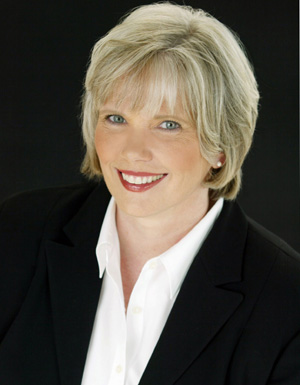 Dr. Lynette Cacciotti is a graduate of the New England College of Optometry, Dr. Cacciotti or "Dr. C," as her patients affectionately call her – is a state licensed optometrist in both California and New York. The founder of Dr. C Optometry, she has treated a wide variety of vision problems that make her one of the top optometrists in the nation.
After ten years in a clinical setting, Dr. C opened a family–owned Practice with the heart and warmth of a small town doctor to the hub of Los Angeles' westside. Dr. C is the first choice for vision care for many of the westside's medical professionals and their families. Her patients include some of the most prominent physicians in Los Angeles.
Because of her expertise, fellow doctors refer the most difficult cases to her for review and consultation. She is known as "the doctor's doctor" in the medical community. Vision care at Dr. C Optometry is a marriage of both medicine and fashion. Dr. C is not only responsible for ensuring proper eye-care to patients, but also providing fashionable eye wear and contact lenses that reflect the image and lifestyle of the wearer.
The Vistakon division of Johnson and Johnson asked Dr. C to spearhead an organization of women optometrists. Today, she is a founding board member of Women in Optometry, which is an international organization of female doctors. She is also a member of the American Optometric Association (AOA).
Dr. Chau Tri Nakada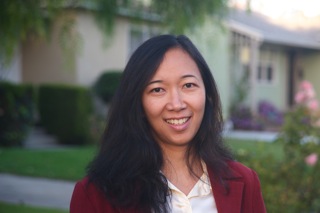 Dr. Chau Tri Nakada has been a welcome addition to Dr C. Optometry since June 2005. She brings a passion and a strong depth of knowledge to improve the eye care and health of adults, children and infants.
After graduating with a B.S. in Neuroscience from UCLA, Dr. Nakada earned her Doctorate in optometry from the Southern California College of Optometry in 1999. In her graduate clinical training, she has developed an expertise in vision therapy, low vision and contact lenses.
Dr. Nakada has a special interest in the development of the visual system and its effect on early childhood learning and school performance. She understands the importance of the eyes working together, clearly and efficiently, to enable children to put their effort into learning, not into seeing. By the use of vision therapy, Dr. Nakada helps children and adults improve their ability to see clearly and easily.
With extensive training in corneal refractive therapy, Dr. Nakada also uses specialized contact lenses to reshape the eye and improve your vision. She has had great success with this therapy.
Come to get to know our staff...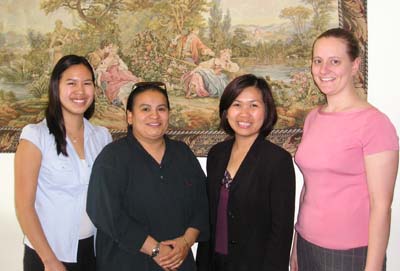 When you call our office or come by, you will most likely be greeted by either Letty, Amanda or Joanne.
Letty has worked at Dr. C Optometry for about 6 years and is very familiar with many aspects of the office including the front desk, the dispensary and contact lens department. She is very knowledgeable about insurances and can help you sort out your insurance questions prior to booking your appointment. If there is something she is not knowledgeable about she will be sure to find out and get back to you.
Amanda is often seen at the front desk greeting patients or scheduling appointments. At other times she may be calling you regarding your contact lens or eyeglass orders. Having a degree in business from Sterling College she has been extremely helpful on the business end of the office. She has introduced many new programs and streamline procedures to make our office more efficient and make your experience more enjoyable.
Joanne is currently a pre-optometry student at UCLA. She has an extensive knowledge of eye care allowing her to assist the doctors with examinations, vision therapy and contact lens fittings. You may also find her in the dispensary assisting with eyeglasses.
Optical Department:
Violet is the director of the optical department. She maintains a full inventory of over 1000 frames, something for everyone. She has the ability to know what will work best for your face shape, skin tones, prescription, personality and lifestyle. Never rushing you to make a decision, Violet wants you to be as excited as she is about your choice of glasses. She will guide you with information on the latest advances in lens designs, materials and coatings to provide the best pair of glasses you have ever had.
Interns
In our office we believe education is very important. At any given time, we may have interns learning under our doctors and staff. Some patients have allowed the interns to observe the examination, and we thank them. A large number of these students are now successful optometrists and we are delighted to have played a part in their growth.