Dr. C Optometry

Do you experience tiredness and eyestrain from computer use? Come in and see the new Digital Performance Eyewear by Gunnar Optiks! For more information, click on our Computer Vision page.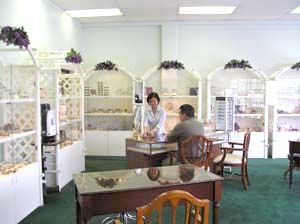 We are pleased to welcome you to Dr C Optometry! Our office is here to be of service to you. You will find our office different in our approach to practicing optometry. Here you will feel more like a friend than a patient because we care not just about the health of your eyes, but about you as an individual. We provide a high level of eye care, a knowledgeable and friendly staff, the latest advances in contact lenses, and high fashion eyewear in a very comfortable environment.
Optometrists,
Dr. Lynette Cacciotti
Dr. Chau Tri Nakada

Come visit us at:

10940 Santa Monica Blvd.
(between Veteran and Westwood Blvds.)
West Los Angeles, Ca. 90025

Or call us at (310) 966-5030
Fax (310) 966-9369
info@drcoptometry.com

Here's what one of our patients had to say about us:

"Just a quick note of thanks to you and your staff for the great service I received these last few months. I just picked up my contact lenses, and I love my new glasses (I get lots of compliments on them too).

This has been the best experience I have had at the eye doctor in years. My eyes are changing as I get older, and I have always gotten very nervous during eye exams. I always feel rushed and then worry that I made the wrong decisions - "which is clearer, 1 or 2," OVER and OVER again - ugh - I've been going through that since I was six! You were so patient with me, and let me get "settled" so that I felt confident with my choices." - Connie
Click to find your CIBA VISION ® product!
2008-06-0614